Call for Help?
When to call for additional help is a frequently debated topic. In some locales (e.g., Europe), where a helicopter is nearby, warmed up, and ready to go, it might be possible for rescuers to arrive in time to help extricate an avalanche victim. However, knowing that only 40% of avalanche victims survive a 15-minute burial, every minute you delay the victim's extraction while summoning help is time wasted.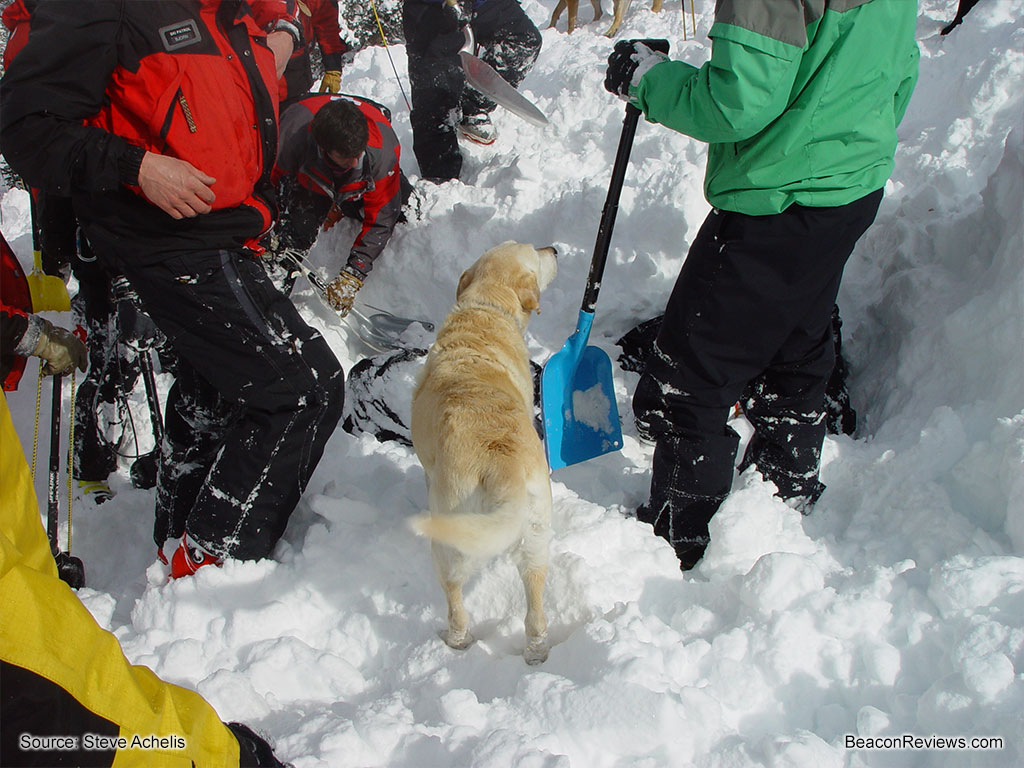 The bottom line is that you should call for help when it won't adversely affect the victim's survival. That's a simple statement, but knowing when that moment arrives is situationally dependent:
Number of Rescuers? If there are enough skilled rescuers (e.g., one burial and four or more rescuers), spending a few minutes calling for help might not adversely affect the victim's survivability. Certainly, if there are more than enough people to perform the rescue, the call should be made immediately.

Cell Service? If you are on a ridgeline with cell service and you will lose the service when you ski down to the avalanche debris, it lends credence to calling for help. But then again, if 60% of buried victims will die within 15 minutes...

Airway? In most cases, it is probably best to delay the call for help until you have opened the patient's airway and the victim is breathing (or a rescuer is performing CPR).
Keep in mind that even if you postpone calling for help, it is extremely likely that you will need assistance providing medical care and transporting the victim. Don't delay the call excessively: call for help as soon as it won't adversely affect the victim's survival.
When you are ambling along a skin track, it's wise to ask yourself, or your partners, "If an avalanche happened right now, when should we call for help?" Asking yourself this before you need to make a decision will reduce the difficulty of answering it when you do.
When calling for help (in the USA, dial 911), be sure to tell the dispatcher:
You are reporting a backcountry avalanche. You may have to say this several times as the dispatcher repeatedly prompts you for your address. You don't want police or firefighters—you want backcountry rescuers.

Your location. This can get complicated. Certainly, a longitude and latitude are optimal, but that is often hard to find and communicate quickly. Some locales, like the Wasatch mountains in Utah, have a backcountry ski map that is used by backcountry skiers, 911 dispatchers, the police, and rescuers (that's my "sponsored link").

Your name and phone number.

The number of people who are buried.
After providing the necessary information, hang up your phone and rescue your partner.